ADVANTAGES:
Design based upon field proven product improvements
Most reliable annular bop packing/seal used in industry
Greater capability permitting stripping of pipe under well pressure
Only two moving parts and long piston style
Strong space and weight saving forged body
Wear bands to protect against metal to metal interferance and wear
Feedable packing unit
Piston conical bowl design
Packing flange steel inserts
Pressure energized seals
Seals and parts available world wide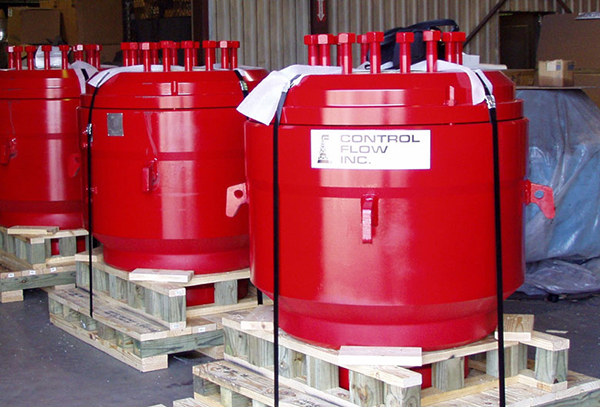 Control Flow Type S Annular BOP's with only five major components including the seal/packer unit, they are particularly qualified to meet the industry's needs for simple, reliable and proven continual use and protection. Type S packing units are manufactured from high quality rubber material reinforced with flanged steel segments. Operating at lower working pressures than other annular BOP designs the Type S seals on open hole as well as a variety of different shapes and sizes of Kelly's, tool joints, drill pipe and drill collars, casing, tubing and even wire line. This proven spherical design is available in a full range of annular sizes and pressure ratings where safe, reliable, and proven capability are required.
SIZE AND PRESSURE RANGES:
7-1/16"- 3M/5M/10M (S TYPE)
13-5/8"- 3M/5M/10M (S TYPE)